22 Oct

The CITIZEN CULTURAL HERITAGE STRATEGY has been published!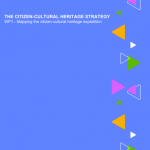 The CITIZEN CULTURAL HERITAGE STRATEGY has been published!
In ouRoute, around 200 stakeholders from the schools, the scientific partners, the local associations from the cultural and creative sector and the local authorities have launched a series of initiatives, from 2019 to 2021, for sensitizing students on the value of both local and European cultural heritage and how it can be a key element for the construction of the "collective identity" and a guarantee for the social, economic and human wellbeing.
The valorization of Cultural Heritage encompasses some steps and a general social transformation, as culture is still considered a key factor in our society and for our wellbeing. That is why we should adopt an integrated approach towards culture, considering all physical, social and economic dimensions of culture interacting at the same time and guaranteeing the citizens wellbeing, including more and more the involvement of young generations.
The citizen cultural heritage strategy is a milestone deliverable that combines the results of the multitude of actions implemented in ouRoute and draws conclusions on the enhancement of the citizen's participation in cultural heritage.
This strategy, identifies the levels of participation of stakeholders and barriers in their further involvement in joint activities with the school and themed around cultural heritage, and proposes a framework and related actions for improvement:
MAKE CULTURE ACCESSIBLE FOR ALL
MAKE CULTURE A KEY FACTOR IN OUR SOCIETY
FOCUS ON KNOWLEDGE AND EDUCATION AS TOOL FOR THE TRANSMISSION OF CULTURE
PROMOTE THE NETWORK AND INCREASE COOPERATION
You can read the strategy below:
->this doc will have to be uploaded in the website and linked below for reading.
https://drive.google.com/file/d/1aXi1EtfNmT97tOqqCIUT_QuB9smD0aAk/view?usp=sharing
For more information on this initiative, partners and planned activities, please contact Alexandros Koukovinis (

[email protected]

), Cláudia Dias (

[email protected]

) or Sara Correia (

[email protected]

)
Consortium: INOVA+, Casa do Professor, Câmara Municipal de Braga, Filmesdamente (Portugal), CESIE, Istituto Istruzione Secondaria Superiore Alessandro Volta, Comune di Palermo (Itália), Universidad de Murcia, Felipe de Bordon, Ayuntamento de Ceutí (Espanha); INnCREASE (Polónia).