18 Ene

Let's explore the ancient crafts!
Let's explore the ancient crafts!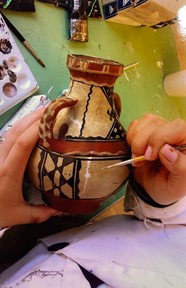 OuRoute students are diving in traditional crafts!
Cultural heritage is not fixed but evolves over time, based on the development of a territory, its characteristics, its people. It is a strong and unique sign of identity that can also foster a sense of community by bringing people together in a common set of experiences. For that purpose, students from Italy, Spain and Portugal are interviewing local craftsmen, in order to know more about ancient professions: artisans, ceramics and potters, carpenters, paper master, restorer…and there are many others!
For more information on this initiative, partners and planned activities, please contact Alexandros Koukovinis (

[email protected]

) and Maria Macedo (

[email protected]

)
Consortium: INOVA+, Casa do Professor, Câmara Municipal de Braga, Filmesdamente (Portugal), CESIE, Istituto Istruzione Secondaria Superiore Alessandro Volta, Comune di Palermo (Itália), Universidad de Murcia, Felipe de Bordon, Ayuntamento de Ceutí (Espanha); INnCREASE (Polónia).