22 Oct

GO CHECK THE AMAZING VIDEOS CREATED BY THE STUDENTS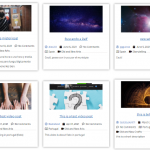 GO CHECK THE AMAZING VIDEOS CREATED BY THE STUDENTS
The students answered to the ouRoute call and have been creating and uploading videos at the ouRoute hub.
Students from Italy, Spain and Portugal have been exploring their cultural heritage and designing their own and unique route by making amazing videos around their cities.
Several videos have already been uploaded in the ouRoute hub and are available to be checked. That has been an incredible opportunity for the students to show their unique story and an interactive map of their city.
The videos created by the students will be then available to be voted for the "Cultural Ambassadors Awards".
For more information on this initiative, partners and planned activities, please contact Alexandros Koukovinis (

[email protected]

), Cláudia Dias (

[email protected]

) or Sara Correia (

[email protected]

)
Consortium: INOVA+, Casa do Professor, Câmara Municipal de Braga, Filmesdamente (Portugal), CESIE, Istituto Istruzione Secondaria Superiore Alessandro Volta, Comune di Palermo (Itália), Universidad de Murcia, Felipe de Bordon, Ayuntamento de Ceutí (Espanha); INnCREASE (Polónia).