22 Oct

CITIZEN CULTURAL HERITAGE: TOOLKIT FOR TEACHERS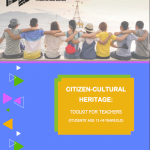 CITIZEN CULTURAL HERITAGE: TOOLKIT FOR TEACHERS
The toolkit for teachers was specially developed to support teachers inside and outside the classroom to ignite the delegation of Intangible cultural heritage and European values. It is a comprehensive guide based on the description of the main concepts linked to cultural heritage, followed my suggestions of many activities that teachers can use to enhance students' awareness of their local and European traditions.
All the activities suggested are very dynamic and based on a learn by doing approach and include information on the methodology, duration and resources needed. We highlight and recommend you to check the list of resources at the end of the document.
In summary, the toolkit for teachers will support schools in ouRoute to drive new curricular and pedagogical activities fostering cultural learning and will also be used to plan new activities and promote (re)discovery cultural journeys.
For more information on this initiative, partners and planned activities, please contact Alexandros Koukovinis (

[email protected]

), Cláudia Dias (

[email protected]

) or Sara Correia (

[email protected]

)
Consortium: INOVA+, Casa do Professor, Câmara Municipal de Braga, Filmesdamente (Portugal), CESIE, Istituto Istruzione Secondaria Superiore Alessandro Volta, Comune di Palermo (Itália), Universidad de Murcia, Felipe de Bordon, Ayuntamento de Ceutí (Espanha); INnCREASE (Polónia).